Northeast HVAC News
CGNA Welcomes T. F. Campbell Co. as our New Member Distributor.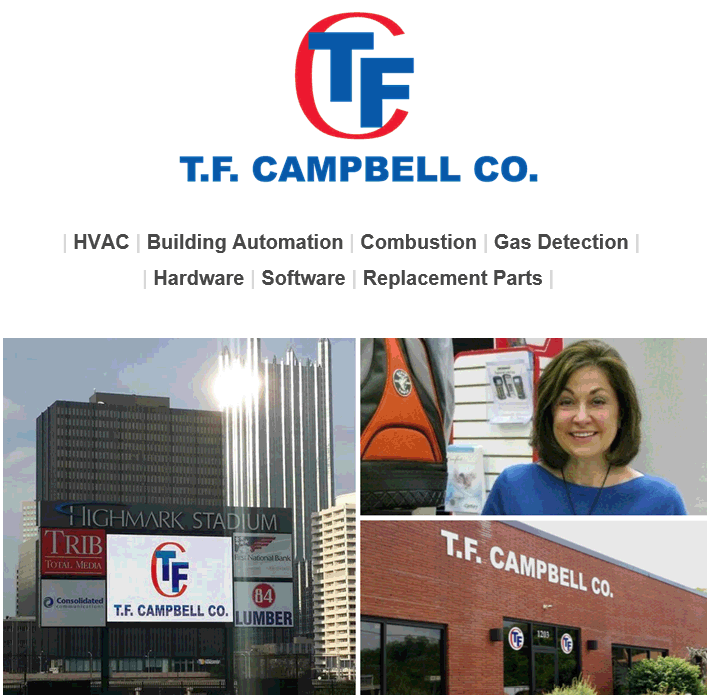 T.F. Campbell Co., Pittsburgh's leading HVAC Distributor, has joined Controls Group North America (CGNA). T. F. Campbell has been an established fixture in Pittsburgh since 1920, providing customers with superior-quality HVAC controls and control solutions for over a century. Through decades of steadfast commitment to excellence, the company's products and services have earned an enviable reputation in the region.
Story continues below ↓
---
advertisement | your ad here
---
Gina Ladefian, who called on TFC for many years as their Honeywell representative, purchased the company in 2012 from the retiring owners. With a long history of delivering top-notch experiences to its customers, T.F. Campbell Co. is poised to continue its legacy into the next 100 years as one of the most trusted sellers in the region's vibrant community.

To learn more about them, view their line card

T.F. Campbell Co.
1203 Edgebrook Avenue
Pittsburgh, PA 15226
Toll Free (800) 837-8006
PA (412) 881-8006
WV (304) 362-5876

The T.F. Campbell Co. is located in Pittsburgh and covers Western Pennsylvania and West Virginia.

About Controls Group North America
CGNA Distributors partner with HVACR Controls and Building Automation Systems suppliers. Through CGNA, they access a vast inventory network, peer insights, collaboration, and business solutions.
###