Homans Associates Expands Distribution Area with Mitsubishi Electric Trane HVAC US Effective Immediately.The expansion covers residential and commercial equipment in New York(including Manhattan and all five boroughs), Long Island and all of New Jersey.- Homans Associates, LLC announced today that it is finalizing an agreement with Mitsubishi Electric Trane HVAC US (METUS) to distribute ALL Mitsubishi Electric equipment in New York
City, including all five boroughs, Long Island and all of New Jersey.
<<read complete story>>


SupplyHouse.com: Plumbing & HVAC Supplies with a Side of Breakfast Quesadillas. SupplyHouse.com NY Employees Put on their Chef Hats for a Virtual Cooking Class. The Engagement Team at SupplyHouse.com is often thinking of ways for teammates to interact with one another virtually throughout the pandemic. Since the company previously hosted cooking and nutrition events in the office prior to the pandemic, the team was excited to host this virtual event!
<<read complete story>>


Granite Comfort Expands Footprint to Philadelphia With Acquisition of Signature HVACR and the greater community. Tiger Infrastructure Partners ("Tiger Infrastructure") announced today that its portfolio company, Granite Comfort ("Granite" or the "Company"), has acquired Signature HVACR ("Signature"). Signature is a residential HVAC company that serves the Philadelphia metropolitan area.
<read complete story>>

Daikin Acquires ABCO for Distribution in New York, New Jersey and Surrounding States.
Daikin North America LLC, the world's largest manufacturer of heating, cooling, and refrigerant products, announced today a strategic alignment with ABCO HVACR Supply + Solutions "ABCO," the leading full line distributor of HVAC and refrigeration systems and supplies in the Northeastern United States. <<read complete story>>
New DrainMate adaptor expedites connecting ductless mini-split system wall-mount evaporator drain hose directly to 3/4-inch PVC.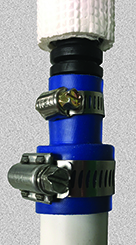 The DrainMate DMB-34 is a blue flexible plastic adaptor fitting for quickly and easily creating a tight, reliable connection from a DMS wall-mount evaporator's 5/8-inch (16-mm) condensate drain hose to a 3/4-inch (20-mm) Schedule-40 PVC drain pipe commonly used in many applications.
The DMB-34 is fabricated from a special grip-enhancing, non-slip material. The 5/8-inch female end accepts any of the standard plain or ribbed plastic nipples commonly supplied by most ductless manufacturers for fitting to the end of the drain hose.
The 3/4-inch female end slides directly onto any standard PVC pipe to ensure a reliable and easy connection secured by clamps or cable ties. <<continue>>